Venue Information
The Asia South Pacific Design Automation Conference will be held at the
Sydney Covention and Exhibition Centre
at Darling Harbour in Sydney, Australia.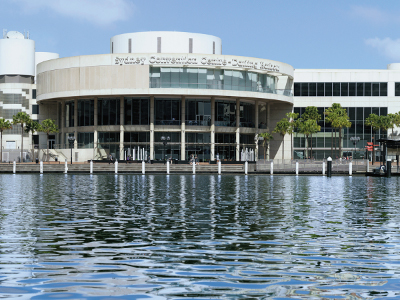 Several hotel packages nearby the centre are available for booking during registration. For other hotels and a general map of the area,
click here
.
The rooms assigned for the conference sessions are all in the Bayside section on Level 2, a map of which appears below. The conference registration desk will be available in the Bayside level 2 foyer. Rooms 202, 203, 204A and 204B will be used for presentations, room 201 is available as a speaker preparation room and refreshments (including meals on the final day) will be served in the Bayside Terrace. One tutorial on Monday, January 30 will be held in room 107 on level 1, which is below the Bayside Terrace and can be seen in
this map
.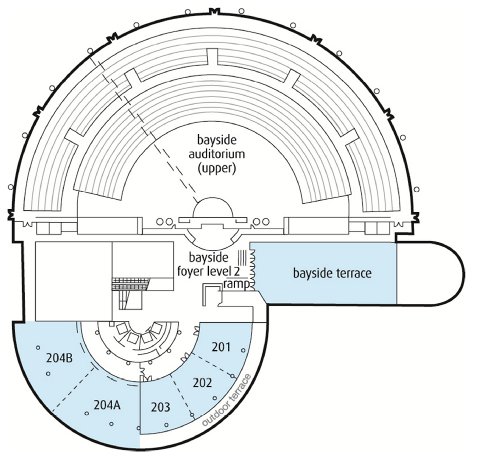 Please use the lift provided to reach level 2 when entering the convention centre. The Lift is marked on the map of the ground floor below.
Dinner Cruise Information
Date:
Wednesday, February 1
Ship:
Starship Sydney
Meet:
6:00pm-6:15pm outside Convention Centre
Board:
6:30pm at King Street Wharf 4
Disembark:
9:30pm at King Street Wharf
For the special dinner cruise on Wednesday night, gathering will be outside the Main Entrance of the convention centre between 6:00pm-6:15pm, as marked with an X on the floorplan below (location of water is not to scale). The group will then move around Darling Harbour in the direction of the arrow to board the Starship Sydney at 6:30pm (approximately 10 minute walk). Don't be late as the ship will not wait for you. The final sessions end at 6pm on this day, so head down immediately after those.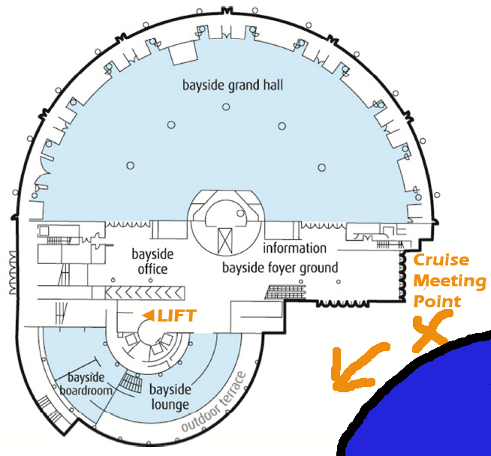 Google Maps route:
View Larger Map
Last Updated on: 16 January 2012