Keynote Information
Keynote 1
Speaker:
Professor Giovanni De Micheli
Position:
Professor and Director of the Institute of
Electrical Engineering
and of the
Integrated Systems Centre
.
Affiliation:
EPF Lausanne
, Switzerland.
Engineering complex systems for health, security and the environment
Much of the progress in engineering will stem from our ability to design complex system out of nanocomponents. Whereas the last successful forty years of microelectronics were tied to our ability of crafting complex integrated circuits out of a myriad of transistors, future systems will exploit nanodevices to realize innovative computational fabrics whose applications require broader hardware abstractions, extended software layers and with a much higher complexity level overall. Indeed the ability of mastering materials at the molecular level and their interaction with living matter opens up
unforeseeable horizons. New integrated nanosystems will be able to address open problems related to health and environment management, with an overall benefit to individuals and communities.
Bio:
Prof. De Micheli is program leader of the Nano-Tera.ch program. Previously, he was Professor of Electrical Engineering at Stanford University.He holds a Nuclear Engineer degree (Politecnico di Milano, 1979), a M.S. and a Ph.D. degree in Electrical Engineering and Computer Science (University of California at Berkeley, 1980 and 1983). He is a Fellow of ACM and IEEE and a member of the Academia Europaea. His research interests include several aspects of design technologies for integrated circuits and systems, such as synthesis for emerging technologies, networks on chips and 3D integration. He is also interested in heterogeneous platform design including electrical components and biosensors, as well as in data processing of biomedical information. He is author of: Synthesis and Optimization of Digital Circuits, McGraw-Hill, 1994, co-author and/or co-editor of eight other books and of over 450 technical articles. His citation h-index is 70 according to Google Scholar.
Keynote 2
Speaker:
Dr Neil Weste
Position:
Software Guy.
Affiliation:
OzRunways Pty. Ltd.
, Australia

Antipodean VLSI Adventures
With sky-high NRE and CAD costs, and a small industrial IC footprint, not to mention the GFC, it is hard for the erstwhile VLSI impresario to find gainful employment in Australia. This talk will summarize two ways to stay busy that might be a guide to others finding themselves in the same or similar positions.
The first method of 'staying in the business' is illustrated by a company with which the author has been associated for the last few years. The main principle is to find an application which requires a 'System on Chip' approach (that is Analog/RF and digital), can be completed in an older process and doesn't require a preponderance of digital gates. The other important feature is not to become a chip company but to outsource that part of the development process. We shall also learn that while an initial market area might drive the formation and technical direction of the company, another completely unrelated area might be responsible for the ultimate success of the company.
The second method is to take the techniques honed over many decades writing VLSI design software and use them in some completely different area - 'beating swords into ploughshares (or vice versa)'. In this case the other area is Apps for the iPhone and iPad and the application area is Aviation software.
The approaches and outcomes of both methods will be summarized.
Bio:
Weste grew up in the Riverland Region of South Australia. He received a BSc in Physics in 1974, a BE in 1976, and a Ph.D. in 1978, all from the University of Adelaide. Weste worked at a number American technology firms, including Bell Telephone Laboratories, Microelectronics Center of North Carolina, Symbolics, Agile Systems, and TLW. He was also at Duke University and the University of North Carolina. In 1995 he returned to Australia as a professor at Macquarie University. In 1997 he started Radiata Communications with David Skellern where the first 802.11a chip was designed. The company was acquired by Cisco Systems in 2001.[1] After the acquisition, Weste remained with Cisco for 2 years and then founded NHEW R&D, a technology-investment and consulting firm that he continues to manage. In 2011, Weste joined a small company called OzRunways to help develop aviation mapping applications for the Apple iPad.
Keynote 3

Speaker: Speaker: Dr Cliff Hou
Position:
Vice President of Design and Technology Platform.
Affiliation:
Taiwan Semiconductor Manufacturing Co. Ltd.
, Taiwan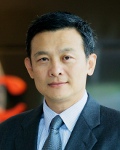 Trends, Challenges and Solutions of Design Ecosystem for 20nm and Beyond
In moving to a new process technology, readiness of the design ecosystem - EDA and IP - plays crucial enabling roles. As the complexity and cost of feature scaling grow, the ecosystem is facing challenges that require collective changes by its constituents to evolve accordingly. In this talk, we will first look at the driving forces behind process technology roadmap. Next we will discuss the trend such roadmap ushers in, as well as the resultant challenges facing the ecosystem as the industry moves toward 20nm. We will then move to propose a collaborative framework under which foundry, EDA and IP vendors and customers partner to address the challenges. Finally, we will offer a preview of the ecosystem beyond 20nm and how collaboration will continue to be adjusted to enable future success.
Bio:
Dr. Cliff Hou was appointed TSMC's Vice President of Design and Technology Platform in 2011. He joined TSMC in 1997. He was previously Senior Director at Design and Technology Platform where he established the Company's technology design kit and reference flow development organizations. He also led TSMC in-house IP development teams from 2008 to 2010.
Before TSMC he was in front-end design environment development with Taiwan's national telecommunications laboratory, ITRI/CCL; worked as a consultant specializing in physical verification methodologies; and served as an Associate Professor at Kaohsiung Polytechnic Institute, Taiwan.
Dr. Hou holds 20 U.S. Patents and serves as a board member of Global Unichip Corp. He received his B.S. degree in control engineering from Taiwan's National Chiao-Tung University, and Ph.D. in electrical and computer engineering from Syracuse University.
Last Updated on: 4, OCT, 2011